Keno's Classic Rock n Roll Web Site


ALBUM REVIEW
THE BEATLES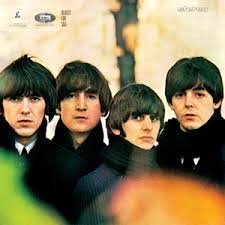 Beatles For Sale
Released - December 4, 1964 (UK Release), Parlophone Records. Produced by George Martin.
John Lennon - Lead, Harmony and Backing Vocals; Acoustic and Rhythm Guitars; Harmonica; Tambourine, Handclaps
Paul McCartney - Lead, Harmony and Backing Vocals; Bass and Acoustic Guitars; Piano, Organ; Handclaps
George Harrison - Harmony and Backing Vocals; Lead (6- and 12-string) and Acoustic Guitars; African Drum, Handclaps; Lead Vocals on track 14
Ringo Starr - Drums, Tambourine, Maracas, Timpani, Cowbell, Bongos; Lead Vocals on track 10

Additional Personnel - George Martin - Piano
All songs written by Lennon & McCartney except where noted below.
#
S

ong

Lead Vocals
Rating
1
No Reply
John Lennon
10.0
2
I'm a Loser
Lennon
10.0
3
Baby's in Black
Lennon and Paul McCartney
10.0
4
Rock and Roll Music (C. Berry)
Lennon
10.0
5
I'll Follow the Sun
McCartney
10.0
6
Mr. Moonlight (RL Johnson)
Lennon
7.2
7
Kansas City/Hey, Hey, Hey, Hey (Leiber and Stoller/Penniman)
McCartney
8.2
8
Eight Days a Week
Lennon w/ McCartney
10.0
9
Words of Love (B. Holly)
Lennon and McCartney
7.2
10
Honey Don't (C. Perkins)
Ringo Starr
9.1
11
Every Little Thing
Lennon and McCartney
6.9
12
I Don't Want to Spoil the Party
Lennon and McCartney
10.0
13
What You're Doing
McCartney
8.2
14
Everybody's Trying to Be My Baby (C. Perkins)
George Harrison
9.2
Ave
9.0
REVIEW
I recall in the late 1990s, on a trip back to New York City, sitting around with my friend, rock n roll photographer Philip Kamin, talking about the old days past. Philip had shot photos of most of the old time rockers in the past, including the solo Beatles, other than John Lennon. The Beatles were his second favorite band and I asked him what was his favorite Beatle album. Without missing a beat, he said to me Beatles for Sale. "Really?" was my surprised response. "Yes" he said back to me, "I guess I'm the only Beatles fan to pick that one, but it's the one I like best and the one that I still play the most today". Good for Phil, and for any other Fab fan who might feel the same way.
Beatles for Sale was the fourth studio UK album put out by the Beatles, and it is one masterpiece - perhaps an underrated one at that. But now, are there really any underrated Beatles albums? Well of course, and this one just might be the most underrated out of all the albums the band put out.
The bottom line on the Beatles, was that they were the true kings of pop music - nobody, and I mean nobody could top them in putting out a pop tune, and perhaps that's why I often rate their pop albums higher than their classic rock albums, and that's coming from a guy who overall doesn't care for pop songs and prefers to play their latter day LPs.
The best song found on this album is "Eight Days a Week", with the lead sung by John Lennon, but with a lot of help coming from Paul McCartney, this song is as good as a song can get! I pick the cover of the Chuck Berry tune "Rock and Roll Music", again with the lead sung by Lennon, as the next best one up on the album, along with the LPs first 2 songs, "No Reply" and "I'm a Loser", almost as great, and again, Lennon sings the lead on these two, too. That's the way it was in the early days of the band, Lennon was the best singer in the group and he sang the lead the most over McCartney, who of course was almost as great a singer, and in time would sing as many songs as Lennon would on the last few albums that the band put out.
Both George Harrison and Ringo Starr both get to sing lead on one song each on here, and both songs turned out great. Ringo sings the cover "Honey Don't", a song that was flat out perfect for his voice. Harrison sings lead on the appropriate cover song "Everybody's Trying to Be My Baby", a ditty that the entire band must have been able to identify with at this point of their lives.
Overall, yes, an underrated Beatles album, and a great one, for sure!
- Keno, January, 2018
To listen to some soundclips from Beatles For Sale or to purchase it, click on this link: Beatles for Sale
Return to Rock Album Reviews